Products
Two Great Iconic Canadian Rye Producers Release Their Oldest Offerings
The longest-aged whisky Wiser's has ever released and it is truly a stunning beauty. High abv corn spirit distilled more than 35 years ago has sat gently maturing in well-used ex-bourbon barrels and the result is as you would expect.The blend also includes just under 10% of column and pot distilled rye aged in virgin oak barrels. Loaded with high esters – fruits and flowers – with clean crisp barrel notes that support without intruding on a palate that is remarkably complex even for whisky this old.

Buttery, almost creamy on the palate, it never loses its brisk peppery edge. After a cornucopia of fall fruit and lush summer hay it settles into a peppery but waxy long and vaguely sweet finish. Several minutes after sipping it, your mouth is still telling you that you have experienced the dram to hold all others up to.

★★★★★ Very highly recommended. Do not miss this one – it will sell out quickly.  Davin de Kergommeaux, canadianwhisky.org
The Canadian Club trademark dark fruits announce an elegant, beautifully balanced whisky with tremendous complexity and breadth of flavour. Hints of butter tarts, gentle cloves, nutmeg and other baking spices, and ripe purple plums are interlaced with the warming glow of real black pepper. After 40 years in barrels, the most refined oaky tones bring silky structure to the whisky, while avoiding the woodiness so common in long-aged whisky. Black pepper notes remain brisk and invigorating yet carefully constrained, from the middle right into the long elegant finish.

★★★★★  CC40 is a masterful achievement and a real tribute to the Canadian whisky style. Canadian Club: you've knocked it out of the park.  Very highly recommended.  Davin de Kergommeaux, canadianwhisky.org
A totally new and unique combination that is finally here!
Yup, you guessed it – it's a blend of Vodka and Tequila!  But not just any blend.  It's won more awards than you can shake a potato and an agave plant at — including the International Wine and Spirits Competition.
---
3 Very New and Very Exclusive Items from Glenfiddich!
Glenfiddich 25YO Rare Oak
The Glenfiddich 25 Year Old Rare Oak was originally released for the Travel Retail market. It's drawn from a mixture of Spanish Sherry butts and American bourbon barrels, resulting in a rich, complex flavour profile. Lively Sherried spice and juicy raisin notes blend well with the chewy vanilla touches – a classic combination, and with good reason.
*$599 – Same Price as Duty Free *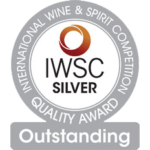 ---
Glenfiddich Experimental Series – IPA Cask Finish
Scotch, meet beer.
Part of Glenfiddich's Experimental Series comes a single malt which was finished for three months in casks which previously held IPA! Created collaboratively by Glenfiddich Malt Master Brian Kinsman and IPA expert Seb Jones, the IPA which was in the casks before the whisky was specially brewed for this expression by the Speyside Craft Brewery. Bound to be a fascinating whisky for whisky and beer enthusiasts alike (and the cross-over of that Venn diagram, too).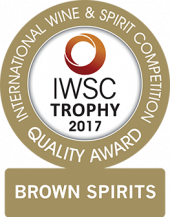 ---
Glenfiddich Experimental Series – Project XX
Created by 20 — yes, 20 Malt Masters!
The second release in Glenfiddich's Experimental Series is their Project XX expression, which was made not simply by one Malt Master, but 20! 20 Malt Masters were invited to the Glenfiddich distillery and invited them to pick any expression from the thousands of casks maturing in the warehouse. The 20 chosen whiskies were then married by Malt Master Brian Kinsman to create this single malt you see before your eyes. Hooray for teamwork!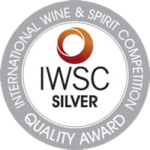 ---
EXCLUSIVE To Our Store IN CANADA. Only $75!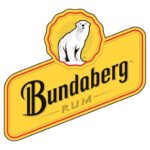 Bundaberg Black 12 Year Old
Bundaberg Rum Black 12 Year Old was first released in 1994. Due to its limited number of bottles it was enjoyed by a few but remembered by many. Since then, the Australian distillery has tinkered and toiled to bring back the legendary character of this premium rum.
Flavour Notes:  Warming aromatic clove, nutmeg and rich molasses develop into a raisin and honeyed oak finish.
Serve:  To make the perfect Bundaberg Black 12 Year Old and Dry, take a highball glass, add 3 dashes of chocolate bitters followed by cubed ice and 45ml of Bundaberg Black Rum, top with ginger ale and stir. Garnish with a slice of orange.
---
From a Master Storyteller and the Hacienda Patrón….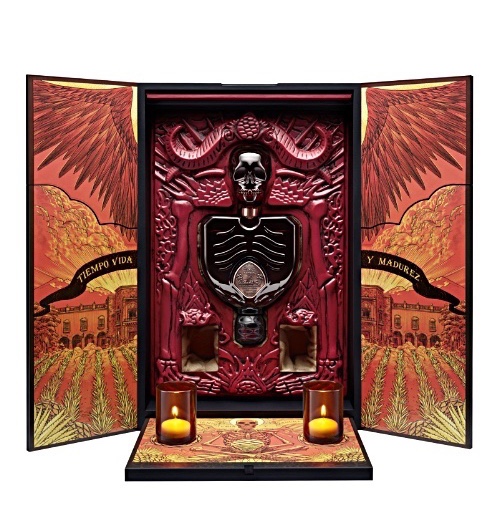 PATRÓN X GUILLERMO DEL TORO
Patrón x Guillermo del Toro is a meeting of two masters; one of dark films and one of tequila. An altar to the ritual of drinking tequila, this limited-edition product features a skull and skeleton shaped bottle housed in a box intricately illustrated with dark images that reflect Guillermo del Toro's take on Mexican culture. Nestled into the deep red interior, the bottle contains 750 ml of blended extra añejo tequila and 100 ml aged orange liqueur. Deeply aged and blended to create a supremely dark tequila, Patrón x Guillermo del Toro is perfect in a darker version of classic cocktails or sipped neat. Combined with the aged orange liqueur, this tequila comes out of the darkness in signature cocktails such as the citrusy Sacrifice or the perfectly blended The Perfect Ratio. Slip into the night as you embrace the dark, sweet notes of the perfect pairing in drinks that are best sipped slowly.
Featured Patrón Cocktail Recipe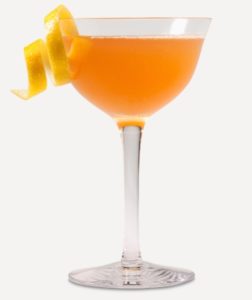 INGREDIENTS
2 oz  Patrón x Guillermo del Toro Extra Añejo
0.5 oz  Patrón x Guillermo del Toro Orange Liqueur
0.25 oz  Simple syrup
1.5 tsp  Orange juice
1 tsp  Lemon juice
2 dashes  Angostura BittersRECIPE
Combine ingredients in a shaker tin with ice and shake until chilled.
Strain into a chilled Nick & Nora or coupe glass with twist of lemon.
---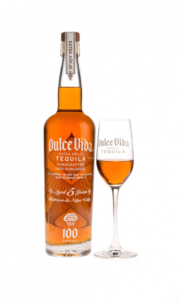 Another Rare and Exclusive Find @ over 50% OFF
Dulce Vida Extra Anejo
We bought out the Canadian stock of this amazing Ultra Premium Tequila.
Aged over 5 years, organic, barrel proof and reduced 50% off MSRP!!!
Sells for over USD $140. Now only CDN $88. – Order Today!
This tequila spends 5 1/2 years not in bourbon barrels but in a mix of former Cabernet Sauvignon and Merlot barrels from Napa's Rombauer winery. Crafted in the Jalisco Highlands, the tequila is fair-trade certified. The producer expects stock to last for the next two to three years.
The nose is classic, well-aged tequila — all caramel, butterscotch, and Mexican chocolate notes. On the palate, it's a much bolder, racier tequila than many extra anejos tend to be. Here, the agave is surprisingly pushy, offering immediate spice and black pepper notes and backed up by lots of punchy salted caramel character. The finish melds the two major components — racy agave and sugary caramel sauce — together, ping-ponging back and forth between the sweet and the savory.
---
---
 A Flight of Wines and Spirits Exclusives…
You won't find these items anywhere else in the city.  We are your number one source for the finest products on the market.  Here are a few current exclusives:
GOLD, SILVER, and RED for the Holidays
---
Hennessy GOLD VSOP PC5
Double Magnum
A collaboration between Hennessy and designer Peter Saville has birthed the creation of a limited-edition, beautiful gold bottle, Hennessy V.S.O.P by Peter Saville, in part celebration of the cognac's 250th year, which includes a 'world tour' by the brand.
Our price: $500 (3 litres)
---
Belvedere Silver Saber
A gorgeous silver bottle that lights up at night! 
Make Your Night Shine.
The Belvedere Silver Saber is a silver luminous bottle with laser etching. The epitome of owning the night, this truly innovative design enables the eye-catching silver bottle to remain luminous while dancing the night away. It is a true feast for the eyes, and the perfect décor for the VIP table in exclusive nightclubs. Experience the same luxury Belvedere Vodka, in a unique, special edition bottle.
Our price: $199 (1750 ml)
---
DALMORE QUINTESSENCE
World's first scotch aged in five different 

RED 

wine barrels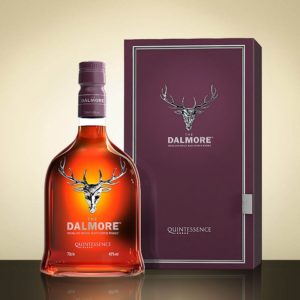 Created by Master Distiller, Richard Paterson, as a celebration of his five decades in the industry, this Dalmore expression showcases Paterson's artistry in maturation. Combining one of his own passions with his work, Paterson has travelled to California to select casks of five different red wine grape varieties in which this Highland Single Malt has been matured for an unprecedented five years. The result is the only single malt in the world with a unique five variety red wine finish.
We have the only 3 bottles of Quintessence in Canada!
---
ROYAL DRAGON IMPERIAL VODKA
IMPERIAL COLLECTION

This is Superior Craftsmanship in all its elements. An award winning Vodka and a true masterpiece on its own. The Superior taste and our magnificent hand-blown bottles, including a masterly sculpted dragon, defines the Imperial as the ultimate temptation.
Available in 750ml, 3000ml and 6000ml sizes.
ELITE CLASSIC

The Royal Dragon Elite Classic is outstanding on the rocks, neat and in the mix with your favourite cocktail. This Classic Vodka is as well produced from the finest winter harvest rye, organically grown by trusted farmers near our distillery. It's not only the natural smooth taste that impresses; also the specially designed gold on black dragon bottle creates a unique feeling for aesthetics and luxury.
---
Fantastic Finds…. and ON SALE!
---
Balvenie 12 Year Old Single Barrel
First Fill
Released in 2013, Balvenie's Single Barrel First Fill was matured in first-fill bourbon casks for at least 12 years before bottling. These are limited edition bottlings, with each bottle being one of no more than 300 drawn from a single cask. Each is also hand-numbered and labelled with the cask reference number. A deliciously creamy, vanilla-rich whisky from Balvenie.
Our price: $119 – Save 30 % 
---
Bombay Sapphire Laverstoke Mill
Limited Edition Gin
Regularly $118
NOW $65
An Incredible 45% OFF!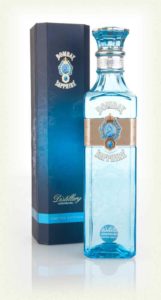 A special limited edition release of classic Bombay Sapphire to celebrate their new home at Laverstoke Mill, which is bottled at 49% abv! It also has beautifully designed packaging that's inspired by the Thomas Heatherwick designed glasshouses at the new distillery with illustrations by Si Scott featuring on the presentation box and as a ceramic rendering on the decanter bottle itself.
Nose: Fragrant, juniper-rich nose with perfumed lavender and sweetness.
Palate: A tangy, dry palate with more of those exceptional juniper notes, cardamom and citrus zest. Black pepper develops.
Finish: Good length – bright and lively to the very end.
---
Newest Addition to the family from Laphroaig:
LAPHROAIG LORE
Laphroaig Lore is a 2016 addition to the distillery's range, replacing the discontinued 18 year old.  Made up of whiskies aged in a combination of quarter casks, sherry casks and reused peated casks. This is rich and classically peaty with a spicy chili bite and a long, sweet aftertaste.
Don't forget that we carry the whole Laphroaig range including the discontinued 18 year old and the rare 32 year old.  Contact us for ordering.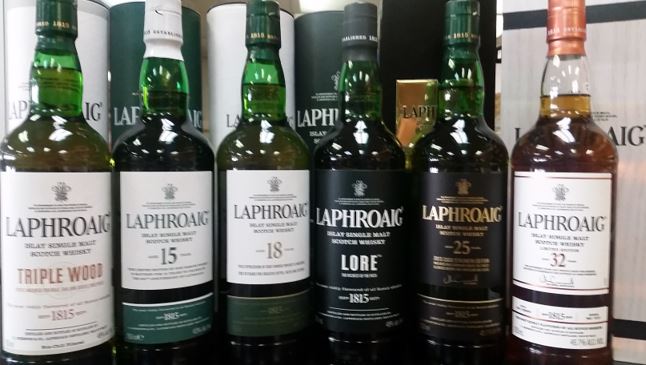 ---
Which one for DAD! Dragon, Tiger or Bull?
XO Brandy in hand blown crystal, Intricate, Unique and VIsually Stunning. Perfect decorative items for Dad or for yourself.
---
OLD GRAND-DAD BOURBON
Old Grand-Dad Bonded is hands down one of the best deals in bourbon.  Bonded bourbon means that this bourbon was created during one distillation season by one distillery. It also needs to be aged in a federally bonded warehouse for a minimum of 4 years and be bottled at 100 proof. Finally, the bottle's label must also list the distillery it was created in and where it was bottled at (if different than the distillery).
---
MICHTERS 10 YR Old:
It's back for 2016.
After a year's hiatus, Michter's has released their 2016 10-year Michter's rye. Michter's, originally an NDP (Non-Distiller Producer), has now opened the doors on their distillery in Louisville. They've become famous in the bourbon community for their aged, limited releases.
---
WILD TURKEY MASTER'S KEEP 17 YR Old
Wild Turkey Master's Keep will be a very limited Bourbons that are supposed to be released this August.  Master's Keep is the oldest Bourbon at 17-years-old that Wild Turkey has released in the American market (Wild Turkey used to sell a 17-year-old Bourbon in Japan).  American Spirit had previously been Wild Turkey's oldest Bourbon at 15-years-old.
---
 – NEW COLLECTABLE RELEASE – 
Arran Smugglers' Series Volume One — The Illicit Stills
 The first release in a new series from the Arran distillery! The Smugglers' Series Volume 1 ("The Illicit Stills") is an homage to the history of less-than-legal distillation on the Isle of Arran in the 18th and 19th century. The single malt Scotch whisky is crafted from a selection of their malts, including unpeated and heavily peated stock, whisky matured in old bourbon barrels and whisky fully-matured in Port pipes! A fantastically presented expression – 8,700 bottles were produced.
Nose: A rather busy nose, packed with dried fruit, floral wafts and light BBQ embers. Subtle coastal elements too…
Palate: Peat warmth really starts to build up here, alongside robust Christmas spices. Hints of Sherried plums and a touch of apple.
Finish: Long and full, with plenty of smoke.
---

Auchentoshan 21 Year Old
Triple distilled and aged perfectly for over twenty one years in American bourbon and Spanish sherry casks. This creates a refined Lowland Single Malt Whisky, ripe with gooseberries, sweet creamy vanilla, a hint of oak, warm honey, and the signature smooth, delicate, Auchentoshan taste.
To The Eye: Bright copper.
To The Nose: Ripe gooseberry notes together with sweet vanilla and oak, combines with a freshly cut barley flavour.
To The Tongue: Light chocolate and soft green fruit, with a twist of old oak and honey.
To The End: A long and lasting finish, demonstrating real depth of character.
---
– LIMITED EDITION –
Highland Park Ice Edition 17 Year Old
Matured mostly in bourbon casks, it's profile is said to most resemble Freya, although this release is in honour of the Ice Realm of Niflheim (hence the cut blue glass bottle). This land of perpetual ice and cold is home to the frozen river of Elivágar and the well of Hvergelmir! Yep, it's another Norse series and as there are Nine Worlds in Norse mythology we can expect plenty more in the pipeline. In fact, we're already heard that the next release will be a Fire Edition…
Nose: cool, fresh pineapple and ripe mango sorbet come to life in this celebration of glacial character. Silvery shards of smoke give way to the frosty kick of root ginger.
Palate: Like the Ice Giants themselves, the palate is powerful yet mellifluous. In true Highland Park style, the combination of an argent, misty peat smoke is intertwined with pearly iridescent vanilla seeds and overtones of molten orris root.
Finish: Beautifully balanced, the creamy, rich, oily finish snowballs into long lingering woodiness and dry, feverish spices.
The Scotch Whisky Advent Calendar
Second Edition
Twenty-five different scotches from 5 different distilleries!  And you've likely never seen any of them before.  Every day of the calendar is a surprise but we can tell you that you'll take a tour of Scotland sampling just about every grain, malt, style and flavour profile available.
First launched in 2013, The Devil's Casks series pays homage to the Islay tale of how the devil himself was chased through the village of Bowmore and into the gates of its distillery before escaping in a cask of whisky bound for the mainland.The Pedro Ximénez liquid is said to offer a "sweet" flavour of chocolate and coffee, while the Oloroso whisky contributes "dark, fruity" aroma of figs and raisins.
The Third and Final Release of the Highly Sought After and Collectible Devils Series.
Reserve yours today!  We also have the 2nd Release Available for sale.
Il Poggione Brunello  2010
98 PTS Robert Parker and #4 Wine of the Year! 
Robert Parker… "This is what great Sangiovese is all about.  This Brunello is only at the beginning of a long road ahead. The longer the wine stays in the glass, the more it offers in terms of complexity and intensity. This is a true standout that can be enjoyed for up to 20 years ahead.  Fabrizio Bindocci and his son Alessandro are the most accomplished father-son wine making team I can think of today in Italy.  They excel in every aspect of wine making, from vineyard management to wine marketing. Never have I encountered a Il Poggione Brunello as beautiful as the one released this year. This is one of the highest expression of Sangiovese you will ever taste!"
A unique opportunity to acquire one of the oldest bottles ever released by this iconic family owned distillery. Matured in a first fill sherry butt (1672) and bottled at 43.3% volume.Only 360 bottles made and we have the ONLY Bottle in Canada at a very attractive price of $20,888. ( It retails for 14,500 Pounds in the UK – $29,000 CDN)
"My grandfather started laying down stocks for the future way back in the 50s, so it is thanks to his incredible foresight that we are able to bottle this today. I'm sure he would have been as impressed by it as I am. The finish is the longest I have ever experienced – 20 minutes later you will still be able to taste the subtle nuances of this incredible dram." — George Grant
Macallan Fine And Rare 1950 CASK
A stunning 1950 52 year old Macallan bottled in 2002 as part of the Fine & Rare series. This is one of the oldest casks released in the series that was not a re-bottling. A stunning masterpiece of scented old hardwoods, dark fruits, elegant spice, menthol, tropical fruits, ancient peat and earthy complexity. One of the lesser know great Macallans and now very hard to find, and at a price significantly lower then in the UK.
Highland Park 50 Year Old
A long departed release from Highland Park in a one-of-kind bottle that we still have for you.  The bottle features a hidden silver replica of the Rose Window from Orkney's St Magnus cathedral inside the bottle, slowly revealed as the whisky is drunk. This would mean little if the liquid itself wasn't also impressive and inevitably it is. Only 275 bottles were produced from a vatting of five casks, all filled in 1960, and it has the hallmarks of continuing Highland Park's reputation for superb old whisky.
1994 Fonseca Vintage Port
100 points – Wine Spectator
  (1997 Wine of the Year & Cellar Selection)
Hold on to your hat. This is the best Fonseca since 1977, and it's probably even better than that classic vintage–more like the breathtaking 1948. Mind-blowing, with masses of color, aroma and fruit flavor. Smells like fermenting berries, boasting loads of crushed grape, violet and berry character. Big, full-bodied and very sweet, with tons of tannins and a sweet finish. Tannic and huge, it's a long-term, great Port.
1994 Taylor's Vintage Port
100 points — James Suckling
This is, to date, the greatest Vintage Port ever from here. It overwhelmed me years ago when I tasted it from barrel, but only now is it crossing gradually into its drinking window. The intensity is still mind-boggling here, with sweet-and-sour notes as well as mounds of clay. There are violets lurking somewhere too. A full-bodied, medium sweet and sublime Vintage Port, showing forest fruits and freshly picked blackberries on the palate in the form of a creamy, focused and tannic texture.
100 points — Wine Spectator
**Cellar Selection and Wine of the Year 1997** In a word, superb. It's full-bodied, moderately sweet and incredibly tannic, but there's amazing finesse and refinement to the texture, not to mention fabulous, concentrated aromas of raspberries, violets and other flowers. Perhaps the greatest Taylor ever, it's better than either the 1992 or the 1970, though it's very like the '70 in structure. Best after 2010.
---
Krohn 1965 Vintage Port
Nineteen-sixty-five was Krohn's centenary vintage. It was a small vintage with only 2600 bottles having ever been released. This year, 2015, there has been a very small amount released to celebrate Krohn's 150th Anniversary. An excellent Christmas gift or 50th birthday / anniversary present.
---
JURA 1984
The Jura 1984 Vintage has been released in homage to George Orwell who wrote the novel Nineteen Eighty-Four whilst staying on Jura, an island nestled off the West Coast of Scotland which was rebuilt in 1963 to revive a tiny community.
Only 50 individually numbered bottles of the limited edition single malt whisky, casked in 1984, are available in Canada.
---
THE SHACKLETON WHISKY
A meticulous re-creation of the original malt whisky shipped to Antartica in 1907 by Sir Ernest Shackleton to fortify his "Nimrod" expedition, this select dram has been a long time in the making. Heralded as "a gift from heaven for whisky lovers".
---
SINATRA CENTURY
The relationship between Frank Sinatra and Jack Daniel's is legendary, special and authentic and one that still holds strong to this day. First recommended by friend Jackie Gleason, the Tennessee Whiskey quickly became Sinatra's signature drink. During performances, he kept a glass of Jack Daniel's on a nearby stool on stage. As a limited edition expression, only 100 barrels of Jack Daniel's Sinatra Century are being made available in individually numbered bottles.
---
JAMES BOND'S CHAMPAGNE
Bollinger and Bond is one of the most enduring marketing partnerships in motion picture history. Champagne Bollinger is featured in almost every Bond movie since Live And Let Die. This month, Bollinger launched a 2009 James Bond vintage with special case to celebrate the partnership with Bond, and a limited edition SPECTRE crystal cooler.
---
Jim McEwan releases Octomore 7.1 as final dram
SALE PRICED at $185. They are $229 in ONT and N/A in BC.
We still have limited quantities of the OCTOMORE 6.1 AND OCTOMORE 6.3 IN STOCK – highly collectable, get them before they are gone!
The seventh annual release in the Octomore series is one of the most heavily peated in the range at 208ppm.  It's been created using barley harvested from mainland Scotland, rather than from Islay alone. Matured for five years in American oak casks, the expression is bottled at 59.5% abv, and is described as having notes of smoke, soft fruits, vanilla, honey and citrus.
---
CHIVAS REGAL ETERNAL
is EXCLUSIVELY OURS and we have it for you!!
Royal Salute launches The Eternal Reserve
Pernod Ricard Chivas Brothers has launched Royal Salute The Eternal Reserve, a marriage of whiskies blended from 88 casks using a unique process called Circular Blending, which allows Royal Salute to use the original blend in each subsequent The Eternal Reserve release for decades to come.
Each time a new batch is unveiled, half of the blend will be re-casked in the Royal Salute Vault to conserve the liquid created in 2015. Thus, the original blend is forever preserved by this perpetual re-circulation.
---
Suntory Hibiki Japanese Harmony
Japanese Blended Whisky
Distillery Bottling
Hibiki Japanese Harmony is a blend of Japanese malt and grain whiskies from Yamazaki, Hakushu and Chita. Presented in the brand's trademark 24-faceted bottle representing the Japanese seasons, this is light, approachable and moreish with enticing notes of orange peel and white chocolate.
---
Here's the perfect cocktail mixer:
Dill Pickle VodkaLove Dill Pickles?
---
MARCONI 46
Everything the Italians make is beautiful! And Marconi Gin is no exception….
Artisanally distilled with vacuum bain-marie pot still.
Marconi 46 is an italian gin artisanally distilled and obtained from a unique infusion of juniper berries, muscat grape, mountain pine, cembra pine, mint, cardamom and coriander reminding of the Asiago plateau in the north of the Veneto region, where the Poli family comes from.
---
 YOUR HALLOWEEN GO-TO VODKA:
Outerspace Vodka
Filtered through meteorites more than 4 billion years old, this US vodka is produced from Iowa corn and gluten free. Outerspace Vodka will turn heads this holiday season with its highly distinctive packaging.
---

BenRiach 35 Year Old
Introduced to the BenRiach range in late 2014, their 35 year old single malt Scotch whisky brings truck-loads of mouthwatering tropical fruit, dark chocolate, treacle and warming oak spice notes, delivering every element elegantly. It's bottled at 42.5% ABV with no chill filtration or added colours. Top quality Speyside single malt from the BenRiach distillers.
---
Balvenie 25 Year Old
Single Barrel
The Balvenie 25 Year Old Single Barrel Traditional Oak was introduced in 2014. Released in batches, each bottle is one of no more than 300, drawn from a single cask, all of which are refill American oak casks. There will be slight variations between batches, but the casks selected by Malt Master David Stewart for this release are chosen for having the richly spiced, sweetly honeyed character you'd expect from 25 year old Balvenie single malt aged in American oak.
---
BENRIACH 18 YEAR OLD DUNDER
Peated Dark Rum Finish
Benriach Dunder is part of the distillery's heavily peated range. Aged in American oak, it's been finished in barrels which formerly held dark rum. Another innovative release from this continually improving distillery.
---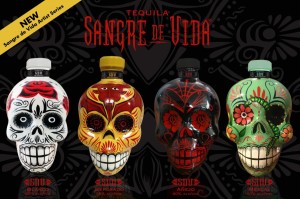 SANGRE DE VIDA
Sangre de Vida is the newest artist series from the creator of KAH Tequila. Rooted in tradition from the inside out, Sangre de Vida Tequila is inspired by expressions of love and life, beauty and decay combined with the spiritual impact of the celebration Dia de los Muertos. Each hand-painted calavera is adorned with exquisite motifs drawn from Mexico's history and culture, while the spirit inside is a true testament to the artistry of distilling the finest tequila.
---
DEAD HEAD RUM
Famous for its sugar cane plantations, Veracruz is re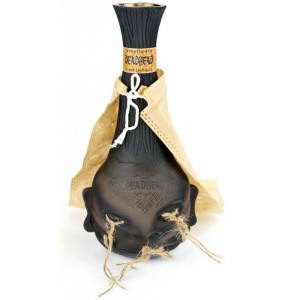 cognized as the cradle of high-quality rum due to its proximity to the Gulf of Mexico and its warm trade winds – it is where DEADHEAD Rum is born.
DEADHEAD Rum is made with a blend of pure sugar cane juice and rich molasses. Sugar cane is crushed, and the juice is boiled in order to extract crystallized sugar. What remains is molasses, which retains about 50% of the sugar from the cane juice; this is the basis for the entire rum-making process.
---
It's Canada Day, so how about an outstanding Canadian Wine!
MISSION HILL ICON RELEASE — OCULUS 2011 – Limited Quantities.
High Demand – Low Supply – makes this wine a highly sought after must have item when released from the winery each year.
In 1997, Mission Hill Family Estate launched its flagship wine by making about 500 cases of Oculus and it is generally regarded as one of the finest Bordeaux-style reds from the Okanagan.
Wines like Oculus are not the sort of bottles that savvy consumers buy for immediate drinking. Oculus in particular is structured like a Right Bank Bordeaux wine. It will have a lot of tannic grip until it is at least five years old.
Since 1998 Oculus has been made entirely with estate-grown grapes, mostly from the Osoyoos Lake Bench. The steady improvement in Mission Hill's viticulture and the growing maturity of the vineyards generally is reflected in the wine's improved power and concentration.
Two-thousand and eleven vintage was almost as challenging as 2010 but was salvaged by a long warm autumn. This Oculus is more generous than the 2010 with bright cassis aromas and flavours. This will age well for 10 to 12 years.
---
BENRIACH 15 Year Old Sauternes Finish
A limited release of only 4158 bottles of this delicate desert wine finished Benriach.
Buy one to sample the gentle side of this Speyside distillery.
Official Tasting Notes
Nose: Apricot jam and warm, peppery oak hold touches of crisp grape and mellow honeydew melon.
Palate: Golden plums and nectarines balanced by contrasting waves of toasted oak and grape seed, followed by a delicate back note of ground almonds and butterscotch.
House style: Michael Jackson describes it as cookie-like! Certainly a sweet, easy-going Speysider although there are heavily peated exceptions.
FUN FACT: Why only island malts are peaty.
Over 100 years ago, peat represented a cheaper fuel option than coal and all Speyside malts were peated. It was only with the development of the rail roads that improved infrastructure meant that, certainly for mainland distilleries, it was more economical to use coal instead of peat to fire the kiln. As such, all Speyside distillers switched from peat to coal and only the island distilleries continued to use peat, explaining why Islay malts, to this day, tend to be heavily peated.
---
BENRIACH ALBARIZA – 18 year old
This new 18 year old release is a peated whisky finished in Pedro Ximénez sherry casks. Albariza s a white chalky soil, typical for Andalucia but similar to the soils of Champagne or Chablis. Nowadays around 90% of the vineyards in the sherry region are planted on Albariza (although mainly with Palomino grapes, not Pedro Ximénez).
Nose: One picks up on the sharpness of the peat first, but it mellows as the glass warms up. A very nice, jammy fruitiness as well. Vanilla ice cream with raspberry topping. Dried apricots. Fig syrup and Turkish delights. Big notes of honey.
Mouth: slightly thinner than expected maybe, and more focused on the peaty side now. Yellow raisins and subtle vanilla. Quite some peppery and gingery notes. Leafy notes and peat. Finish: medium long, drier and spicier, with hints of dark chocolate.
---
ISLE OF JURA 30 Year Old
Jura's new 30 year old was nicknamed after the Standing Stone (the Carnas an Staca) – the name of the Isle of Jura's eight standing stones. These are the remains of an ancient stone circle which was built by the Diurachs around three millennia ago! The whisky comes impeccably presented with a lovely copper-adorned bottle and presentation case.
Nose: Sweet, creamy vanilla, sultanas and oranges. Papaya, guava, salt air and linseed oil. Toasted oak.
Palate: Rich, thick palate entry with chocolate orange and zest to the fore. Sweet barley sugar, custard and toffee apple. Hints of morello cherry, plum jam and allspice.
Finish: Long, zesty finish with cocoa powder, raisins, candied orange peel and malt.
Overall: An intense, full-bodied dram from Jura.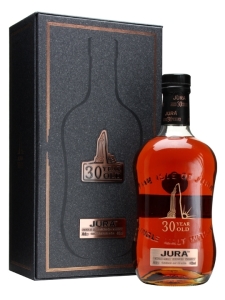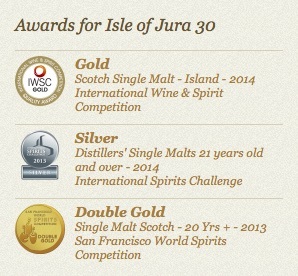 ---
APPLETON ESTATE 30 years old
Long since discontinued by Appleton, but we have secured a few bottles for those Appleton Fans longing to find it.
This limited edition 30 year old rum from the world famous Appleton Estate in Jamaica, is a very rare blend made up of several marks of rum that were hand selected by the distillery's Master Blender more than 30 years ago. These marks were individually aged 8 years then blended together and placed again in oak barrels where they rested for a further 22 years. The result of this unique dual ageing process is a rum that is unmatched in taste, character and smoothness. It is the ultimate journey of discovery of the finest rum in the world. Only 1,440 bottles of this very rare 30 Year Old Rum was handcrafted by the Master Blender of the Appleton Estate and released in 2008.
---
Another BlockBuster Italian Find!
CANALICCHIO SOPRA BRUNELLO 2010 – 98 POINTS Robert Parker
The 2010 Brunello di Montalcino will blow you away. This is a delightful expression that boasts its extreme quality from the minute the wine is poured from the bottle. As you should expect, it just gets better and better with each additional minute in the glass. It opens to a vibrant dark ruby color and blackish-garnet hues. The bouquet is ever changing and shows a long succession of aromatic characteristics that rage from dark fruit, plum, spice, leather, licorice, red rose, balsam and grilled herb. It's textbook Brunello from a great vintage and this side of the appellation (on the northeastern side) performs fantastically in 2010. This beauty should hold fifteen years or more.
---
THE BEST OF THE BEST FOR DAD – 100 point wines and gold medal whiskies!
Make this father's day a special one by giving dad only the best of the best. We've got a vast selection of whisky award winners and to-rated wines. Check out some of these gift ideas below.
---

KAVALAN SOLOIST VINHO CASK — WOLRD WHISKY BEST SINGLE MALT 2015!
We had also found the World Whisky Best Single Malt of 2014- Sullivan's Cove French Port Cask and now we have the World Whisky Best Single Malt of 2015 for you to order. Limit of 1 bottle per customer.
---
ARDBEG COLLECTION — THE SPECIAL RELEASES!
OK you peaty Islay lovers, we've got what you want — the Ardbeg special releases collection! Pick up a bottle of the Galileo, Ardbog, Auriverdes, SuperNova 2 or Perpetum. Or better yet get them all for yourself
ARDBEG GALILEO
WINNER OF THE WORLD WHISKY BEST SINGLE MALT OF 2013!
Ardbeg Galileo Bottling Note
The rumour mill has been rumbling about this Ardbeg release for some time. In April 2012 Ardbeg sent some of their new-make spirit up into space to make Ardbeg the first inter-stellar whisky, so it came as little surprise that in September 2012, at the British Space Centre, the Ardbeg Galileo was LAUNCHED (apologies). All of this marketing aside, it's still pretty damn good, unlike recent Ardbegs the Galileo features an age statement (1999-2012) and contains whisky matured in both ex-Marsala and ex-Bourbon barrels.
NEW! — ARDBEG PERPETUUM
Fanatic fans of the very popular Scottish distillery Ardbeg, located on the isle of Islay, likely know already this whisky making operation is celebrating its 200th anniversary this year. To commemorate this, they've just announced plans to release a limited edition Scotch which will likely be one of the distillery's hottest sellers ever.
Ardbeg Perpetuum, as it is being called, will be going on sale on Ardbeg Day, which is May 30th this year. Ardbeg Day is a yearly ritual for members of the Ardbeg Committee, the distillery's fan club, when they gather in mass at various places around the world to celebrate in spirit a special whisky and music festival held in Islay around the same time.
ARDBEG AURIVERDES
Skilful newcomer Ardbeg Auriverdes is the newest talent to emerge from premier distillery Ardbeg. Distilled with equal measures of both skill and passion, all eyes will be on Ardbeg Auriverdes – named after its golden whisky (auri), and unmistakable green bottle (verde) – when it makes its debut on Ardbeg Day on 31st May.
ARDBEG SUPNOVA 2
A limited release that first hit the market in 2009, and then came back by popular demand in 2010, Ardbeg Supernova was a phenomenon. It showcased young, bold whisky in a way that opened many peoples eyes. To date, the common wisdom had been that "older is better" – everyone wanted a twenty-five or thirty year scotch and anything under twelve years was déclassé. The youth and power of this nine-year peat monster from Ardbeg opened up a "new world" view of young Islay scotch and paved the way for innovators like Bruichladdich and Kilchoman to explore wide ranges of fresh young peaty masterpieces.
---
BRUICHLADDICH OCTOMORE 6.3 — THE PEATIEST SCOTCH…. EVER!
DISTILLED FROM 100% ISLAY BARLEY AND HARVESTED IN 2008 BY FARMER JAMES BROWN AT LORGBA, A SINGLE FIELD ON HIS OCTOMORE FARM.
Peated to a stratospheric 258ppm, the highest ever released in the industry, this extraordinary dram embodies its island origins and carries its phenol count with an effortless grace.
---
LAPHROAIG 15YR OLD – 200th ANNIVERSARY SPECIAL RELEASE
If you've looked at a bottle of Laphroaig over the past few years, then you probably know why 2015 is a big year for the distillery – founded in 1815, as they proudly state on their labels, it's their 200th anniversary. As you might expect from a large number like that, they're doing some celebrating, with events happening throughout the year, including lots of tastings during the Islay Festival in May and a big bash for their annual Laphroaig Live webcast. They are also producing a number of special bottlings, with seven rumoured releases on the cards. The first of these has just arrived – a revived Laphroaig 15 Year Old.
Laphroaig will also be releasing a limited bottling of a 21YR OLD and an incredible 32 YR OLD as part of their 200th Anniversary. Both will be very limited and we have already placed our orders. Place yours to avoid disappointment.
---
HIGHLAND PARK VALHALLA COLLECTION – ODIN
Highland Park Odin, the last of the Valhalla series, represents a single malt Scotch whisky worthy of its namesake – the formidable and commanding ruler of Asgard. Its intense complexity ensures this final release is deserving of its rightful place at the head of the Valhalla Collection.
Due to the limited nature of this product, only one bottle can be purchased per person.
COMPLETE YOUR COLLECTION — We still have available the three initial releases of THOR , LOKI and FREYA!
---
100 POINT WINES! 2010 ITALIAN REDS ARE THE VINTAGE TO BUY!
Our First Rare Find is a 100 POINT Italian Race Horse:
2010 CASTELLO RAMPOLLA VIGNA D'ALCEO
Rampolla's 2010 d'Alceo is utterly spellbinding today. Even better than it was last year, the 2010 impresses for its exceptional balance and pure finesse. Everything is simply in the right place. Silky, layered and unbelievably expressive, the 2010 d'Alceo is a thrill from the very first taste. Over the decades the Di Napoli family has made so many breathtaking wines, but the 2010 d'Alceo is something more than breathtaking, and that something more is hard to express with words. Readers lucky enough to taste the 2010, however, will know it right away. What a magnificent wine this is.
Our Second is another 100 POINT Thoroughbred:
SASSETTI LIVIO BRUNELLO DI MONTALCINO PERTIMALI 2010
Crazy aromas of dried lemon, sea salt and cherry and delicate rose petal. Full body, ripe fruit with amazing acid tannin structure. It works from the inside out with your palate showing an amazing center palate and bright acidity and tannin structure. Goes on for minute. Redefines Brunello. Drink now but better in five years. The greatest wine ever from here.
Score: 100 James Suckling, JamesSuckling.com, December 2014
---
SUPER RARE — STOLI ELIT PRESTINE COLLECTION #3
ONLY 250 BOTTLES FOR SALE WORLD-WIDE!
Andean edition is the third and final in the series of highly exclusive ultra luxury vodkas.Water constitutes 60% of vodka, and in so being, is a vital ingredient. elit™
pristine water series celebrates the world's most pristine water sources
by blending them with the highest quality, pure Russian Spirit and
presenting the yield in exquisite bottles and cases. Only the most pristine
of water sources around the world will meet the exacting standards
reserved for the elit™ pristine water series. This final edition has taken us
to Colico Lake, nestled in the foothills of the Andes, Chile.
---
 50 SHADES OF GREY
2013 Fifty Shades of Grey White Silk
Tasting Notes:
Floral aromatics of lychee, honey and pear are tempered by flavors of crisp grapefruit, mineral and lush pear with a faint hint of butterscotch.
Winemaker Notes:
Fifty Shades of Grey Wine White Silk is a blend of primarily Gewürztraminer and Sauvignon Blanc. This wine was fermented cool, under 50 degrees F, and aged in stainless steel to preserve its delicate and rich character.
2012 Fifty Shades of Grey Red Satin
Winemaker Notes:
Red Satin is a blend of primarily Petite Sirah and Syrah aged in a combination of new and seasoned French oak barrels.
Fifty Shades Darker Gift Pack
Spice it up with the Fifty Shades Darker-inspired deluxe gift pack featuring one bottle each of Fifty Shades of Grey White Silk and Fifty Shades of Grey Red Satin, plus a feather tickler and silver mask.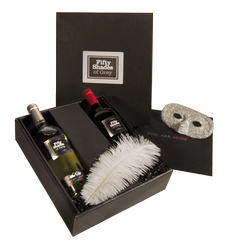 ---
1965 TAYLOR FLADGATE "Very Old Single Harvest" TAWNY PORT
95 points Robert Parker's Wine Advocate
The 1965 Very Old Single Harvest Port, that is, a Coheita, single vintage tawny, is part of Taylor's continuing series of releases of old Colheitas. A field blend of typical grapes, it comes in at 157 grams per liter of residual sugar. In the overall context of amazing old Colheitas, it may not take 1st prize, but it will strike anyone who loves them as pretty fine. Get ready for those aromatics that are powerful from several feet away. Irresistible on opening, it has an up-front rush of sugar, concentrated aromatics and remarkable concentration of flavor on the finish. Laced with classic old tawny nuances, including a bit of molasses and treacle, it ends with a dark, burnished feel. The mid-palate depth is just average. There are some whiffs of brandy that are sometimes rather too obvious here and there, but not often. Overall, it is bright and lively, with its good acidity cutting through the sugar and concentrated flavors. The two balance each other well. Some tawnies are caressing and sensual; some are rich and lush; some lean more to bite and focus. This is in the latter category, but the price of admission here is that concentration of mature, old tawny Port flavors. The acidity and the sugar lace those flavors into the palate. It emphasizes treacle more as time goes on. It's pretty fine. Note: this was tasted from a 375ml with a bar-top cork. (MS) (2/2015)
93 points Antonio Galloni
The 1965, a degree lower in alcohol, is a tad darker (amber-mahogany) but less lucid in color, offering scents of marzipan, cinnamon, fig, and caramel, with a surprisingly fresh note of cherry emerging with aeration. The wine is more youthful and primary in the mouth than the '64, more powerful today for all its silkiness.It's technically much higher in residual sugar AND in acidity than the 1964 and a bit more aggressively youthful. Today it's a less mellow, slightly more peppery drink and yet there's already a wonderfully silky texture and a slowly mounting whiplash of a finish. These wines are meant to be ready to drink upon release, but I certainly wouldn't be in a rush to uncork the 1965. 93+ (2/2015)
93 points Stephen Tanzer's International Wine Cellar
The 1965, a degree lower in alcohol, is a tad darker (amber-mahogany) but less lucid in color, offering scents of marzipan, cinnamon, fig, and caramel, with a surprisingly fresh note of cherry emerging with aeration. The wine is more youthful and primary in the mouth than the '64, more powerful today for all its silkiness.It's technically much higher in residual sugar AND in acidity than the 1964 and a bit more aggressively youthful. Today it's a less mellow, slightly more peppery drink and yet there's already a wonderfully silky texture and a slowly mounting whiplash of a finish. These wines are meant to be ready to drink upon release, but I certainly wouldn't be in a rush to uncork the 1965. (2/2015)
---
DARROZE 1965 ARMAGNAC
At present Darroze has, in their ageing storage cellars, more than 30 different estates located in various parts of Bas-Armagnac. The villagesaround have vineyards producing the best brandies. This area is what was used to be called "Grand Bas-Armagnac". It is in this area of 15×25 kilometers that they focus on acquiring yet another small quantity (a cask here, a dame-jeanne there) of the characterful Armagnacs so typical of the region.
---
CHATEUA MONTIFAUD HERITAGE LOUIS VALLET 50 YR COGNAC
This is a blended cognac which is from some of their oldest stock; eaux de vie that was distilled between 1956 and 1963. Dried apricots and walnuts are on the nose and palate.
Aroma: There is an intense richness of this delightful cognac with aromas of dried apricots and almonds.
Distillation: Recenty installed some new big stills. Their style is fruity and distillation is probably around 68 -70 degrees. This is a well managed and good distillery
Flavour: The rich flavour of apricots is enhanced by a gentle rancio which leaves a long smooth flavour on the palate.
Grape Variety: 80% Ugni Blanc also Colombard and Folle Blanche
Reduction and Strength Eau de vie mixed with distilled water, only small quantities used as cellars are quite dry.
Viticulture: The ground here is flat. The chalk here is probably Santonian being more compacted than that of the Cognacian further to the north.
---
HIGHLAND PARK 50 YEAR OLD
Highland Park 50 Year Old Whiskey Orkney's mythic distillery is releasing their oldest and most prestigious dram yet – the Highland Park 50 Year Old Whiskey, available exclusively at Harrods until the end of October. The Highland Park 50 year old is a vatting of five refill oak casks distilled in 1960. The single malt appeals to the whiskey enthusiast with its natural mahogany color, rich and spicy tannins, and muscovado sugar flavors. Highland Park 50 Year Old resides in a 70cl bottle specially designed by renowned jewelry designer Maeve Gillies of MaeVona. What is more, this fine malt is a limited edition restricted to 275 exclusive bottles, handcrafted from sterling silver.
---
APPLETON 50 YEAR OLD
Appleton Estate has just announced the upcoming release of their Appleton Estate 50-Year-Old Jamaica Rum – Jamaica Independence Reserve. It is comprised of rums that are at least 50 years old, but some stocks could be much older, and is believed to be the oldest rum available for sale in the world.
As one may imagine, this very rare rum will be in short supply with only 800 bottles available worldwide and only 70 of those coming to the U.S. market.
---
More New and Rare Finds for May
WORLD WHISKY BEST SINGLE MALT 2015!
KAVALAN SOLIST VINHO Barrique Single Cask Strength
Lots of stewed fruits on the nose. There's also aged Bourbon notes. Water brings out custard creams. Surprisingly smooth on the palate. The alcohol is very present. It's like Bourbon infused milk chocolate.
Another nutty, meaty, savoury nose, with sweet notes in the backdrop. Very sweet pruney flavours initially on the palate, with fruit cake and big clove, chilli and dry cinnamon. Walnut and hazelnut on the very dry finish.
Immediately and subtly liquor rich. Tiny bit of incense, a thread of spice and smoke.
Caramel, marzipan, coffee-vanilla, fudge, rich, creamy, dried black fruits. Integrated and surprisingly light. Element of sandalwood. Starts creamy, waters out, almost disappears before rubbing hot brown sugar into the oesophagus. Tiny bitter trace.
World's Best Single Malt Whisky / Best Asian Single Malt / Best Asian Single Malt No Age



---
JIM BEAM MASTERPIECE LIMITED EDITION SHERRY FINISHED BOURBON
This Jim Beam Distiller's Masterpiece is an extra-aged Kentucky Straight Bourbon at 100 proof Whiskey barrel finished in Pedro Ximénez (PX) sherry casks.
· Extra-aged in the optimal rack-house position, determined by master distiller, Fred Noe
· Finished in PX sherry casks, adding a dynamic to its taste that other bourbons can't offer
· Smooth, rich, full-bodied and mature
· Packaged in a luxury wooden case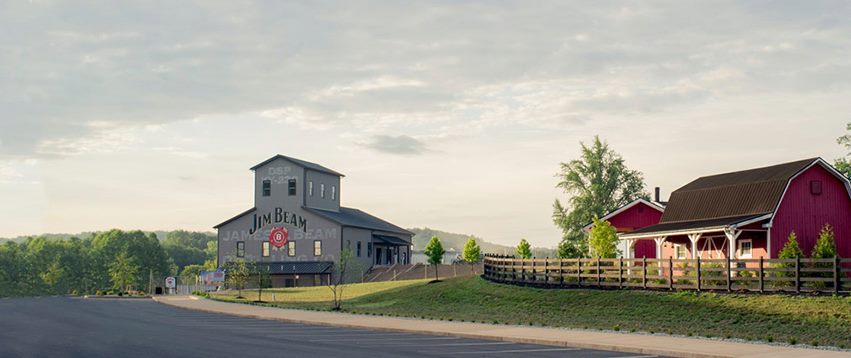 ---
STEP INTO SPRING WITH SPRINGBANK
These one-time offerings from Springbank are very rare and have already sold out in the UK. Order your's today while you still can!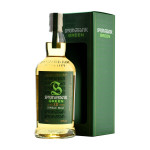 Springbank Green12 Years Old
Springbank Green is one of two expressions from the distillery in the Campbeltown region introduced in the latter half of 2014. It is a 12 year old single malt Scotch whisky matured entirely in bourbon casks and bottled at a pleasing 46% ABV. The result is creamy and sweet with classic Springbank peatiness giving depth and a hint of coastal air.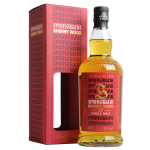 Springbank Sherry Wood 17 Years Old
A hotly anticipated release from the Springbank distillery in Campbeltown, this 17 year old single malt Scotch whisky has been 100% matured in Sherry oak casks and bottled at cask strength. This has resulted in a full-bodied flavour profile rich in dark coffee, Christmas cake and gingerbread, with subtle whiffs of light Springbank peat wafting through. It was unveiled in early 2015 – only 9,120 bottles were released.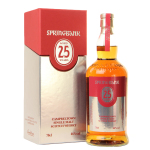 Springbank 25 Years Old
Well-aged Campletown single malt Scotch whisky? Nice! One of two releases from the Springbank distillery which were unveiled in the latter hald of 2014, this is a 25 year old expression which has been matured in a mixture of bourbon and Sherry casks. Before it was bottled, the whisky was married in port casks for a few months.
Springbank Longrow Port Cast 11 Years Old
Longrow Red is back and this time the whisky has been influenced by sumptuous Port casks. It has spent 11 years maturing before being bottled at natural cask strength.
Nose: Beautiful sweet fresh summer fruits. Creamy with a hint of peat and classic cigar box notes.
Palate: Very smooth and elegant, particularly for a 11 year old. Good peat influence with the port casks providing lots of juicy current notes: Lingonberries!
Finish: A soft oaty creaminess provokes thoughts of brie and cranberry on oatcakes. Long and sweet.
---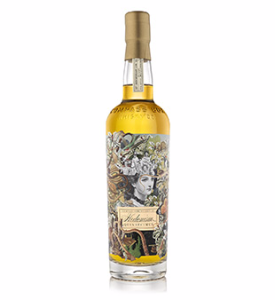 Compass Box Hedonism Quindecimus
A very special limited edition created to celebrate Compass Box's fifteenth anniversary (Quindecimus translates to 'fifteenth') – a highly collectable, one-of-a-kind celebratory bottling.
---

Compass Box Peat Monster Cask Strength Magnum
Compass Box gets Supersized! For those who love big, rich, peaty and smoky malt whiskies, this is your whisky. Bottled at 46%, "The Peat Monster" combines extremely smoky malt whisky from Islay with medium-peated Highland whiskies to create a balanced and approachable monster, but a monster nonetheless. Enjoy! "A bullish classic" — Details Magazine
---
Don't worry …. We haven't forgotten the wine collector!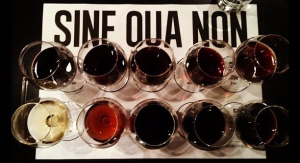 Sine Qua Non 2012 Release will be the "Stock" Syrah – 99 PTS Parker
The Wine Advocate – "The Syrah releases started with the 2012 Syrah Stock. Coming mostly from the Eleven Confessions vineyard in the Sta. Rita Hills, it also has portions from Cumulus, The Third Twin and White Hawk. Made from 84% Syrah, 7% Grenache, 6% Petite Sirah, 2% Viognier and the rest Mourvedre, it spent 20 months (it's not yet bottled) in 52% new French oak. Showing the purity and suppleness of the vintage, yet with no lack of concentration, depth or richness, it gives up fabulous cassis, black raspberry, smoked meats and violet-like aromas and flavors that continue to change in the glass. In short, it's a rock-star Syrah that could come from nowhere else. It should be approachable on release and evolve gracefully for two decades or more. Rating 97-99."
---
HAPPY APPLE FOOL'S DAY!
Want to have some fun with your friends this April Fool's day? Why not give them an Apple Fool's cocktail. Here's the recipe:
APPLE FOOL'S COCKTAIL
Ingredients:
1 shot (1 ½ oz) of sour apple schnapps
½ oz grenadine
Lemonade
Instructions:
Fill a tall glass tumbler with ice. Add Sour Apple schnapps and grenadine. Fill remainder of tumbler with lemonade. Serve.
---
TEELING 21 YEAR OLD
BEST IRISH SINGLE MALT 2014 – WORLD WHISKIES AWARDS
Tangerine, satsuma and grapefruit. The fruit displays a lovely, natural pithy quality along with some dense, herbal honey, lightly dusty oak and a little fish oils and leafy herbs. Luscious palate, complex and juicy with candies lemon peel, orange, grapefruit, barley and lashing of manuka honey. Gentle if slightly bitter spices build towards the middle but the juicy fruit and honey keeps the balance amazingly well.
---
JAMESON SELECT RESERVE
BEST IRISH BLENDED 2014 — WORLD WHISKIES AWARDS
This gold medalist gives a lovely balance of fruit sweetness and gentle cereal notes. Honey, caramel pudding, and hints of rosehip. A very flowery malt with flavours of pepper, spice and sweet jams. Balanced and refreshing.
---
SEXY WINE
This red is a fusion wine; blending leading Portuguese and French varietals to produce a delicious red that is young, warm, fruity and medium-bodied, so attractive it had to be called SEXY!
Tasting notes: Deep ruby-violet colour with an intense aroma of dark woodland fruits framed by notes of toast and caramel from French oak. Concentrated ripe tannins and intense fruit.
Food Matching: Serve at 16ºC and enjoy with well flavoured dishes of either red meats or elaborately seasoned white meats. A wine that can accompany either traditional or modern cuisine.
---
PASSION POP PINK
Featuring a fun style and unbeatable value, Passion Pop is a household name that offers consistent quality, value for money and a unique flavour recipe.
Clear, medium pink colour; aromas of strawberry jam, cotton candy and citrus; medium-sweet with flavours of citrus and sweet strawberry
---
MARILYN MERLOT
The 2011 features a relaxed, playful image of Marilyn Monroe in a green, low-cut blouse, short black skirt and timeless fishnet stockings with black peep-toe pumps. Like the wine, a fashion that never goes out of style.
Winemaker's Note: The 2011 vintage Marilyn Merlot is the 27th release of this fine wine. It is a straight Merlot this year . The wine was aged in 100% oak barrels, 35% of which were new for this vintage. Aromas of Ripe Strawberry and cherries, primarily thyme and lavender complement the oak components of vanilla and smoke from the wood. Moderate alcohol and good acidity make this wine a good pairing with fine foods. Vineyard loc ations for this wine are from our longtime growers in Yountville and Oakville regions of the Napa Valley.
---
DOM PERIGNON ROSE
The 2003 vintage is one of superlatives: a year like no other, defined by extremes. The vineyard was first touched by severe spring frosts and then by an unparalleled heat wave. The vintage of a perfectly ripe and healthy small harvest, is thus the most precocious since 1822.
---
VEUVE CLICQUOT CLUTCH
Show her you've got style by giving her this Verve Clicquot Clutch…. with a bottle of champagne of course. Otherwise flat with the raised contours of a 750ml bottle of Yellow Label Brut, the clutch also acts as a chiller to keep the champagne cold for up to one hour.
---
MOET AND CHANDON ROSE
Pink Champagne or rose Champagne is a great way to add a little romance to those special occasions, such as wedding anniversaries, birthdays or valentines day. For a special touch, consider a bottle of Moet and Chandon Rose Imperial Champagne.
Here Moet and Chandon have produced a non-vintage rose Champagne with an alcohol content of 12%. The wine has a dryness rating of brut and is made from a blend of classic varietals including Pinot Noir, Pinot Meunier and Chardonnay.
---
FLOR DE CANA 25 yr old
A true 100% 25 yr old in barrel rum, not blended with some 25 yr old or aged in the Solera Method. Only in Alberta and in limited quanties.
This Slow-Aged rum, long the most popular rum in Central America, has been distilled from estate-grown sugar cane by the same family since 1890. It comes in an elegant new package design that Flor de Caña is introducing across its brand portfolio in response to the growing worldwide popularity of its rums.
---
OLD PULTENEY 35 yr old
A brand new release from the Distiller that brought you Whiksy Bible`s Best Whisky in the World in 2012.
Old Pulteney 35 Year Old is a brand-new addition to the core range. It sits in between the 30 Year Old and the wonderful 40 Year Old. The spirit has been matured in ex-bourbon and ex-sherry casks selected by distillery manager Malcolm Waring.
---
Old Pulteney 40 YR Old 
will also be arriving in mid Jan as well .
This is the oldest ever official release of whisky from the Old Pulteney distillery in Wick, aged for a full 40 years in three sherry casks and a single bourbon barrel (all of which were filled in 1968). It was bottled at natural cask strength and the result is glorious.
---
Truly Unique Items Arriving in time for the Gift Giving Season
Tomatin Highland Cuatro Gift Set
A truly unique item that will allow you to sample the 4 expressions of Tomatin's Highland 12 YR Single Malts in Fino, Manzanilla, Oloroso and Pedro Ximenez. Perfectly packaged in a unique keepsake box for those hard to shop for friends and family. Only 30 cases are coming into Alberta and we only have 5 available. Contact us for yours today.
A Bourbon Fan on your list ?
Mitchers 20 Yr Bourbon
Rare? Absolutely, only 212 bottles made. Hard to get? Not if you act fast , as we only have 12 btls coming in. Expensive? Certainly not $3000 plus like Pappy. Contact us for details.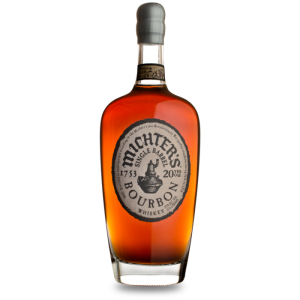 LARGE BOTTLE OFFERINGS FOR THE HOLIDAYS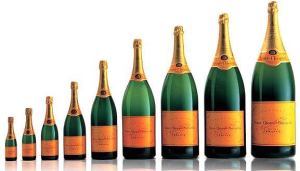 It is holiday time and what is better than to give and celebrate with large format bottles. A list of our current offerings are below. Please contact us if there is a specific item that we can locate for you.
Belvedere 3 L and 6 L

Glenmorangie 3 L

Grey Goose  4.5 L

Stoli Elite 3 L

Beaucastel Chateauneuf 2008 3 L

Caymus Napa Cabernet 2012 3 L

Orin Swift Papillion 2010 1.5 L

Staglin Cabernet 2007 1.5 L

Stag's Leap Artemis 1.5 L

D'arenberg Laughing Magpie 3 L

Penfolds Grange 2004 1.5 L

Penfolds St Henri 2007 1.5 L

Penfolds Bin 707 2010 1.5 L

Giusti Prosecco 3 L

Dal Forno Amarone 2006 1.5 L

Dal Forno Recioto 1997 1.5 L
Gualdo al Tasso 2009 3 L

Lucente 3 L
Massolino Barolo Rionda 2007 3 L
Masi Campofiorin 3 L
Note Bene  3 L
Osoyoss Larose 3 L
Mission Hill Oculus 2009 1.5 L
Mission Hill Quatrain 2011 1.5 L
Quails Gate Reserve Pinot Noir 1.5 L
Fonseca 1994 1.5 L
Fonseca 2011 1.5 L
Taylor 2011  1.5 L
---
 SECRET SPIRITS SCOTCH WHISKY ADVENT CALENDAR
If ever there was a perfect gift for the Scotch drinker in your life this is it! This First Edition Advent Calendar contains twenty-five different scotch whiskies from three independent distilleries in 50ml bottles. (Advent Calenders only have 24 days , but we have included an EXTRA BOTTLE as a treat for CHRISTMAS DAY.) These calendars will be gone in the blink of an eye. Order yours now before they're sold out!
---
BEST WHISKY IN THE WORLD REVEALED — AND IT'S NOT FROM SCOTLAND!
SULLIVAN'S COVE FRENCH OAK WHISKY ARRIVES AT A FLIGHT OF WINE AND SPIRITS MID-NOVEMBER
Winner of the World Whiskies Awards run by Whisky Magazine, Sullivan's Cove beat out 300 other contestants for this most prestigious title. Extremely limited and highly sought after, only 516 bottles were made and 30 of them are coming to Canada.
Raed more at: http://www.independent.co.uk/life-style/food-and-drink/news/worlds-best-whisky-2014-revealed–and-its-not-from-scotland-9224547.html
P.S. We also have the Sullivan's Cove American Oak and Double Cask Coming as well. Check in with us soon to get the best of the best!
---
JAPANESE WHISKY
Have you tried the pure, smooth and complex aromas and taste of a fine Japanese Whisky? A Flight of Wine and Sprits would like to introduce you to Nikka Distillery. It is one of the oldest distilleries in Japan where tradition and modern meet to bring the best out of the water, malt and oak to produce rich, soft, complex and fragrant Whisky for the senses. As always quantities are limited.
---
NIKKA YOICHI — 15 YEAR OLD SINGLE MALT
Very limited and Exclusive to A Flight of Wine and Spirits
Yoichi 15 Years is smooth, chewy and malty, offering deep, rich flavors, and an inherent saltiness and smokiness which derives from its location and its Scottish roots and methodologies. In many ways, Yoichi does indeed scream Scotch, and particularly a coastal scotch, however, it's also clearly different, its own separate class of single malt, distinct in characteristics such as aroma and body.
On ice, the rich, malty sweetness is only intensified. You'll notice a quick, easy and malty finish, with a light sea-breeze saltiness. Nikka Yoichi 15 year old won a gold medal at the 2009 and 2010 International Spirits Challenge.
---
NIKKE TAKETSURU — 17 YEAR OLD
Another winner from Nikka's Taketsuru range. This was named for the founder of the company, Masataka Taketsuru and is a big, bold full-bodied vatted whisky of truly exceptional depth, grace and balance. Presented in an Understated and Elegant White Ceramic Decanter. Perfect for the upcoming Gift Giving Season.
---
NIKKA PURE MALT BLACK
One of the 3 Expression of fine Blended Whisky from Nikka. The pure Black is the most highly rated and sought after. A storming example of what Japanese whisky is truly capable of. A previous batch was awarded a massive 95 points by Jim Murray in his Whisky Bible.
---
NIKKA TAKETSURU — 25 YEAR OLD PURE MALT
Extremly Limited and Exclusive to A Flight of Wines and Spirits
A rare expression from Nikka's Taketsuru range. First introduced in Japan in 2012, this has now reached our shores. Made up of malts aged for at least 25 years from Yoichi and Miyagikyo distilleries, this is sweet and rich with hints of both sherry and peat.
---
NIKKA TAKETSURU — 21 YEAR OLD
February 2010 marked an extraordinary achievement for Nikka, as their Taketsuru 21yo scooped the title of 'World's Best Blended Malt Whisky' at the World Whiskies Awards for the third time in four years. Bravo, Nikka!
---
MACALLAN — 15 YEAR OLD FINE OAK
Macallan 15yo Fine Oak is matured in a combination of Bourbon & Sherry Oak Casks. This range has been around for a few years now and seems to have weathered the storm it caused amongst the faithful when it was initially released. This one is probably the pick of the (Fine Oak) bunch. "Takes time to open but worth the wait. The complete package and arguably the best. 9¼/10" Dave Broom, Whisky Magazine.
---
ARDBEG SUPERNOVA 2014
The final edition of the SuperNova Series. Extremely Limited
In late 2011, Ardbeg, launched a vial of whisky into outer-space to test the affects of gravity on the maturation process. The sample then sat in the International Space Station for three years, finally re-entering the earth's atmosphere on September 12.
Thought to be Ardbeg's "peatiest single malt", the third edition of Supernova 2014, named after an exploding star, has been launched to coincide with the return of the whisky vial.
It follows the release of Ardbeg Galileo, a limited edition 12-year-old single malt which was launched in 2012 to celebrate the start of the distillery's space experiment.
Ardbeg Supernova is described as having an aroma of smoked lemons and pears, and a "peppery, spicy and electric" taste with underlying medicinal notes.
---
CHRISTMAS COMES EARLY!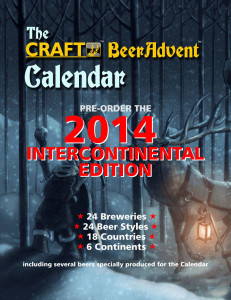 ORDER YOUR 2014 CRAFT BEER ADVENT CALENDAR BEFORE THEY'RE SOLD OUT!
We are now taking orders for this super hot Christmas item. The calendar this year features 24 unique beers from 6 continents — none of which are currently available for sale in Alberta. The Stop by or click the button below to guarantee you receive this truly unique gift item.
---
SOMETHING SCARY (AND BEAUTIFUL) FOR HALLOWEEN!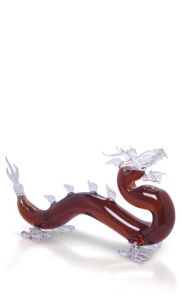 DRAGON BRANDY — ARATTA XO
Check out this one-of-a-kind Dragon Brandy Decanter. This hand blown crystal dragon is intricate in its details and design.
Armenia is known for its brandy, which it began producing in the late 19th century. Today brandy is a symbol of Armenia and an important export product.
Grape Brandy is Brandy distilled from fermented grape juice or crushed but not pressed grape pulp and skin. This spirit is aged in wooden casks which colors it, mellows the palate, and adds additional aromas and flavors.
Available in very limited quantities, these beauties sold out before Christmas last year. Order now before they are gone!
---
FOR YOUR HALLOWEEN PARTY — CRYSTAL HEAD VODKA (3 Litre Size)
Sure, others may have small skulls but we've got the ONE-OF-A-KIND 3 LITRE VERSION!
Crystal Head uses pristine water from Newfoundland and peaches n' cream corn as the basis for its flavour. The Vodka was conceived of and founded by actor Dan Akyroyd and artist John Alexander in 2007. It's is quadruple-distilled and filtered seven times — the final 3 filtrations through Herkimer diamond crystals. In addition to being additive-free it's gluten-free and kosher certified.
Try this recipe on your guests:
CHV NEGRONI
1 oz. Crystal Head Vodka
1 oz. sweet vermouth
1 oz. Campari orange peel
Pour Crystal Head, vermouth and Campari into a rocks glass over ice.
Garnish: Twist orange peel to release the citrus oils, and then drop into cocktail.
FOR MORE VODKA INSPIRED RECIPIES CLICK HERE:
http://www.crystalheadvodka.com/en/recipes
TO SEE HOW THE CRYSTAL SKULL IS MADE CLICK HERE:
http://www.crystalheadvodka.com/en/news/ever-wonder-how-our-bottle-is-made
---
DALMORE 25 YEAR OLD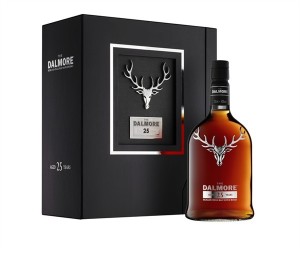 ONLY 12 BOTTLES COMING TO CANADA — AND WE HAVE 2!
A jaw-dropping addition to the Dalmore core range introduced in 2013, the Dalmore 25 Year Old follows the distillery's tradition of being matured in an extensive selection of casks. Initially aged in American white oak, it's then hand-divided into 25 year old Palomino Fino sherry butts and 1980s first-fill bourbon casks. After that, the whiskies are married in bourbon barrels before finally enjoying some time in Tawny Port pipes from Portugal. Phew, what a long journey! The effort pays off though, as the Dalmore 25 Year Old is utterly incredible.
---
NEW: GREY GOOSE VX WITH CONGNAC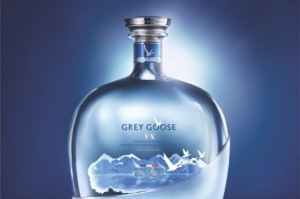 Bacardi, one of the drink giants, has just announced the release of its latest product; the Grey Goose VX. This is an ultra premium expression from Grey GooseVodka, but this time it's got the added twist of having 'precious drops of cognac' combined.
Grey Goose is the famous vodka that's produced in Cognac. And it's proved to be a hit around the globe in clubs, pubs, restaurants and up-market drinking establishment.
READ MORE AT: http://blog.cognac-expert.com/grey-goose-vx-vodka-cognac/ 
---
EXCLUSIVE TO A FLIGHT OF WINE AND SPIRITS — GLENFIDDICH RESERVE CASK (1L)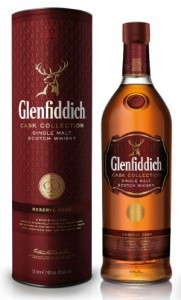 Colour: Rich golden with slight red hues.
Nose: Laid back, subtle, gentle and fantastic. It's sweet and malty with light late summer fruits meeting you along with small hints of vanilla custard. Spirity notes after a while in air.
Palate: Again the palate closely matches the nose. There's a sweet, slightly fizziness that greets you along with both green and a handful of red apples and gentle late summer berries. Although it's only 40% it does have a certain thickness to it.
Finish: Still slightly fizzy which is really delightful. A longer finish with the richer sherry fruits becoming more apparent.
---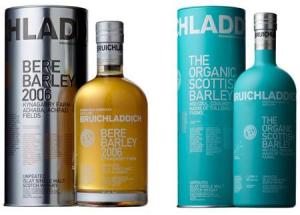 THE ORGANIC SCOTTISH BARLEY….
is an unpeated malt made from finest Scottish barley and is the only organic Islay malt. It is presented in a bottle with matching cylinder gift box in stunning aqua, a color which challenges the convention of muted tones for malt whisky and will come to signal the presence of this new approach to the category. EXCLUSIVE TO A FLIGHT OF WINE AND SPIRITS!
---
SMIRNOFF DOUBLE BLACK VODKA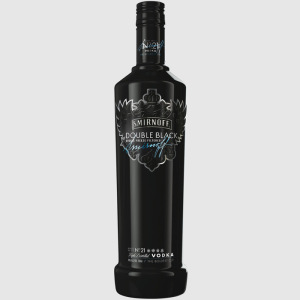 A Brand New Vodka, in an Ultra Cool Black Bottle. Be the First to Try It!!
If you love Smirnoff you'll love the latest addition to their family. This uber cool and striking bottle captures there boldest cut of Smirnoff Vodka yet – Double Black. Triple distilled, and double freeze filtered to produce this refined, complex and smoother tasting vodka. Full strength and full flavour, Smirnoff Double Black adds that exceptionally smooth edge perfect for cocktails and in mixed drinks.
---
Faustino I Gran Reserva 2001- 97 Points – Decanter Magazine

Decanter magazine has described Faustino I Gran Reserva 2001 asoutstanding and has obtained the highest score in the Rioja wine tasting conducted by the magazine.
"Faustino (founded in 1860) with its iconic frosted bottles and portrait labels is one of the Rioja´s most easily recognized brands. It´s a family business based in Oyón in Rioja Alavesa, and the largest private holder of vineyards in Rioja, spread across de region. The style of the Rioja is a classic as the packaging: look for the sweet, vanilla notes of American oak, plenty of bright cherry fruit, and a fine, delicate palate. For those interested in tasting great old Riojas, Faustino is one company that still releases older vintages going as far back as 1970. Among the other wineries it owns is Portia in Ribera de Duero."
Pedro Ballesteros MW. Deliciously decadent, with extraordinary vitality on the palate and a long , unique finish. A jewel at this price.
Ben Henshaw. Complex nose, quite grippy but fresh and moreish. A touch dry, but amazing fruit. Classy, complex and long.
Annette Scarfe MW. A more restrained, mineral style with elegant tannins. Youthful, feminine and complex with a long length. A classic Rioja that is still fresh after 12 years, with more to come.
LIMITED QUANTITIES AVAILABLE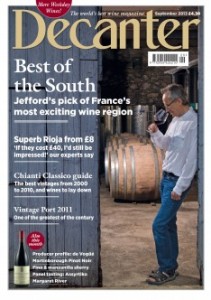 ---
El Dorado 25 year Vintage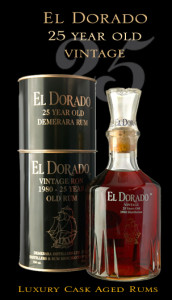 A very limited edition for the connoisseur who appreciates the best in the world of spirits. An extremely rare creature and a rare experience to savour. Created to mark the turn of the millennium, 25 Year Old Vintage Reserve is presented in an appropriately distinctive decanter to treasure or to give with pleasure. This exquisite vintage rum possesses a silky smoothness which challenges the oldest cognac. The constant ambient warmth and tropical conditions of Demerara dramatically hasten the maturation process – producing a spirit that is the equivalent of one aged for many more years in a cooler climate.
Tasting Notes:
An extremely rare creature, this rum is rich, smooth and mellow with soft syrupy mouth-feel and subtle notes of caramel and heavy fruit cake. An after-dinner treat for sipping slowly and sparingly.
---
Dominus – Napa Valley
100 POINTS – Robert Parker's Wine Advocate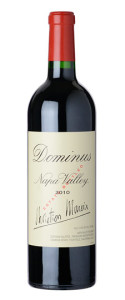 The Dominus 2010 displays compelling notes of black cherries and plums as well as a hint of graphite and sandalwood. With a round and sweet attack, the chiseled and deftly polished tannins give a savory evolution. Its finish is long and replete with cedar, anise and cacao.
The 2010 vintage is composed of 95% Cabernet Sauvignon and 5% Petit Verdot. In recent years the Napanook vineyard has undergone an extensive replanting program. This, coupled with a rigorous selection of lots for the final blend resulted in the smallest quantity of Dominus produced since 1984.
We recommend decanting the wine prior to serving, to allow it to develop its full potential. This is especially important when serving young Dominus wines.
Vintage Summary
The 2010 season began with a cool and wet spring, resulting in a late bud break, flowering and veraison. Summer was also cool but a record-breaking heat wave (107°F) marked the end of August. The heat of late summer and early fall resulted in an extraordinary concentration of tannins and color. While the high temperatures dramatically reduced yields for Cabernet Franc and Petit Verdot, the Cabernet Sauvignon thrived in the late season warmth.
BEGINNING DATE OF HARVEST: October 4
FINAL DATE OF HARVEST: October 23
PERCENTAGE OF NEW BARRELS: 40%
TIME IN BARREL: 18 months
BOTTLING DATE: July 2012
9-LITER CASES PRODUCED: 3000
RELEASE DATE: June 2013
---
Pappy Van Winkle's Family Reserve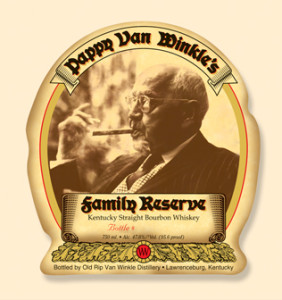 THE #1 RATED BOURBON WHISKY IN THE WORLD — 99 OUT OF 100 BY THE WORLD SPIRITS CHAMPIONSHIP
This whiskey is wonderfully smooth and rich. No other bourbon today can stand so many years of aging, but this bourbon does it with style. "Pappy" Van Winkle was a true character. This bourbon, like "Pappy", is full of character that makes it a very special whiskey. It has been put in the class of a fine after dinner cognac.
This whiskey should be enjoyed neat. Any ice or water will dilute the uniqueness.
Rated "Five Stars" by Paul Pacult
"A whiskey connoisseur's bonanza,…remarkable find…ranks with the best whiskeys," – Paul Pacult's Spirit Journal.
PLEASE NOTE: We are now accepting requests for orders and if we are oversubscribed then a draw will take place to fulfill the requests.  YOU CAN ORDER YOURS NOW ON THIS SITE'S "PLACE AN ORDER" PAGE.
---
Taylor Fladgate 1863 Single Harvest Tawny Port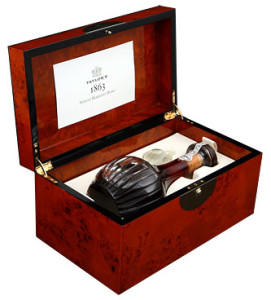 Taylor's Single Harvest 1863, drawn from the firm's collection of very rare and valuable cask aged Ports, represents a unique piece of wine history. Like a time capsule, it offers a fascinating glimpse into a distant past.
The harvest of 1863 was one of the finest of the nineteenth century and the last great Port vintage before Phylloxera spread throughout the Douro Valley.
Matured for over a century and a half in oak casks, the Taylor's Single Harvest 1863 has achieved an exceptional level of density and complexity while displaying a vitality and freshness remarkable in a wine of this age. In addition, the cool and tranquil environment of the Port lodges in Oporto has allowed the wine to retain its harmony and balance.
Adrian BridgeThe Taylor's Single Harvest 1863 is presented in a bespoke crystal decanter, specially produced in Italy, with an individually fitted glass stopper engraved and polished by hand in Scotland. The decanter is displayed in a superb luxury box finished in maple burl veneer. Each box contains a certificate individually signed by Taylor's Managing Director, Adrian Bridge.
Price: $3,888.  Pre-orders are now being accepted on this site's PLACE AN ORDER page.